Celebrate St Valentine in Roquemaure(30 Gard, languedoc-Roussillon) at the Festo de Poutoun (Occitan for The Kissing Festival also known as Fête des Amoureux)16-17 February 2013
Established over 100 years ago ,Roquemaure becomes the city of romantic legends. The town is decorated as it was in the 19th century.

There will be more than 800 costumed actors, floats and horse riders. Shop fronts are decorated as in olden times as is the post office and the lovers fountain. There is the traditional market including ancient trades, a music stand and wooden-horse merry-go-rounds.

Lovers will find themselves humming the most beautiful love songs to the sound of street organs and exceptional Limonaire barrel organs in the streets of the old village.
The remains of St Valentin are reportedly buried here. Unless you are a real romantic, better to hunt our the local wines – Lirac – mainly reds in the style of Côtes du Rhône and Chateauneuf-du-pape. (also nearby are the rosé wines of Tavel, considered by many to be the best rosé wine in France).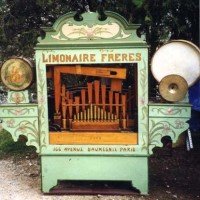 For more info see www.ot-roquemaure.com
go by train from London St Pancras to Avignon (10 miles away)
Best rates for hotels in and around Avignon